SVR-172 Series (0.5kVA-5kVA) Relay Type Voltage Stabilizers with Colorful Display
SVR-172 series (0.5kVA-5kVA) is a new realease in 2020. With a stylish LED graphic colorful display and a refined metal cabinet for better ventilation, it's a best choice for household and office appliances.
Main Applications:
¡ñ Refrigeration equipments: fan, refrigerator, chest freezer, cooler, air-conditioner
¡ñ Entertainment appliances: TV, DVD, VCR, DVB, HiFi
¡ñ IT & Office equipments: PC, workstation, fax machine, photocopier
¡ñ Heating systems: gas boiler, circulation pump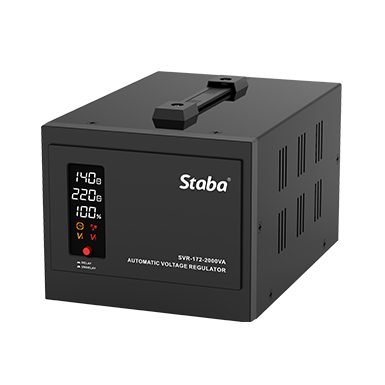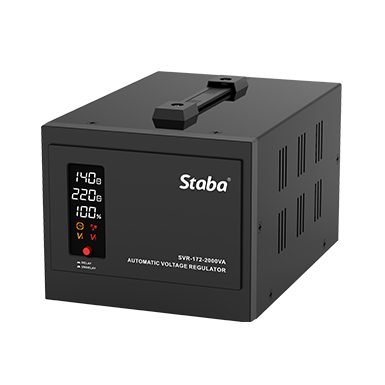 General Features
MCU control circuit, offering stable output.
Zero cross transfer technology integrated, more longer operating life.
High efficiency toroidal transformer.
Full protections such as over voltage, under voltage, overload over temperature, short circuit.
Optional manual bypass switch for 3000VA-5000VA.
Optional 110V output.
Optional USB output.
CE / RoHS 2.0 certified.
Technical Specifications
MODEL

SVR-172-500VA

SVR-172-1000VA

SVR-172-1500VA

SVR-172-2000VA

SVR-172-3000VA

SVR-172-5000VA

Rated Power

500VA

1000VA

1500VA

2000VA

3000VA

5000VA

GENERAL

Technology

Zero cross transfer technology + Patented CoolMate technology


Transformer

Toroidal transformer

Material of Cabinet


Metal

Efficiency

>95%

Input Frequency

45-65Hz

Delay Time

6s / 180s selectable

INPUT VOLTAGE & OUTPUT VOLTAGE

220V

Option 1: Input 140-260V, Output 220V¡À8% (202-238V)

Option 2: Input 140-260V, Output 220V¡À5% (209-231V)

Option 3: Input 100-270V, Output 220V¡À10% (198-242V)

Option 4: Input 80-270V, Output 220V¡À10% (198-242V)

230V


Option 5: Input 140-275V, Output 230V-13%,+10% (198-253V)

Option 6: Input 105-280V, Output 230V¡À10% (207-253V)

Option 7: Input 80-280V, Output 230V-13%,+10% (198-253V)

MULTIFUNCTIONAL DISPLAY

Digital Display

Input voltage, output voltage, load rate (%)

Icon / Symbol


Delay, over voltage protecting, under voltage protecting, overload protecting

PROTECTIONS

Over Voltage

Output cutoff + "Over voltage protecting" icon + Error code "H"

Under Voltage

Output cutoff +

"Under voltage protecting" icon

+ Error code "L"


Over Temperature

Output cutoff + Error code "C"


Overload (Optional)

Output cutoff +

"Overload protecting" icon

+ Error code "F"


Short Circuit

Circuit breaker tirps off

Surge/Spike (Optional)

1 x MOV (L-N) or 3 x MOV (L-N, L-E, N-E)


OTHER OPTIONAL

FUNCTIONS


Bypass

Manual bypass switch (only available for 3000-10000VA)




110V Output

Yes

USB Charger

5VDC, 1000mA

CERTIFICAITONS
Certification

CE, CB, SON, SASO, RoHS 2.0


OPER

ATING CONDITIO

NS

Storage Temperature

-15¡ãC ~ 40¡ãC


Operating Temperature

-15¡ãC ~ 40¡ãC


Operating Humidity




10%-90%, non-condensing




PACKING



Product Size (WxHxD mm)




145x134x220




170x158x246




250x244x309




Inner Box Size (LxWxH mm)

2

72x152x142




292x198x188




355x292x265




Carton Size (LxWxH mm)

475x286x308




412x306x400




600x370x290




Qty / Carton (pcs)

6

4

2