AT-501 Series (500W-10000W) Pantented Step Up & Down Voltage Converter
Unlike traditional Step Up and Step Down Voltage Converter, AT series voltage converter can automatically detect the input voltage, so manual selection is not needed any more. In the same time, it has dual output (110V220V),what you need to do is just to connect the load into the correct outlet, according to its input voltage range.
**United States Invention Patent No. : US9, 225 259 B2
**China Invention Patent No.: ZL 2012 10015565.8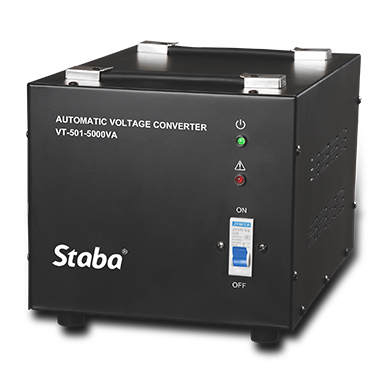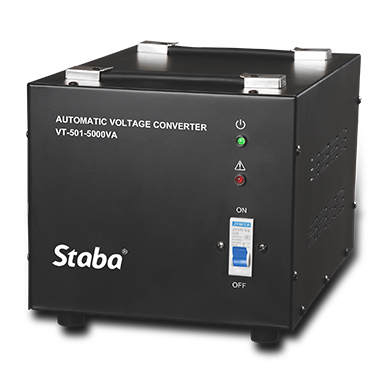 General Features
High efficiency toroidal transformer, less magnetic leakage, low noise and quiet operation.
Always dual output (110V and 220V), manual selection of input voltage is NO Need.
Soft start function, wall circuit breaker not trip off.
Short Circuit / Low Voltage / High Voltage Protection.
Optional surge protection (by MOV).
Optional transformer over temperature protection.
Technical Specifications
Technology

Automatic Voltage Conversion

Invention Patent

China Invention Patent No.: ZL 2012 10015565.8 United States Invention Patent No.: US9,225 259B2
Input Voltage


110V/115V/120V or 220V/230V/240V

Output Voltage


220V/230V/240V and 110V/115V/120V

Efficiency

>95%

LED Indicators


Green LED: power on Red LED: protection(output cutoff)




Over Voltage Protection

Output cutoff + Red LED light on
Under Voltage Protection

Output cutoff + Red LED light on
Over Temperature Protection

Output cutoff + Red LED light on

Soft Start

Yes

Short Circuit Protection

Input cutoff by circuit breaker/air breaker

Certification
CE, FCC, RoHS2.0
Cooling Mode

Smart Cooling Fan


IP Level




IP20




Operating Temperature

-5¡ãC ~ 40¡ãC


Storage Temperature

-15¡ãC ~ 45¡ãC


Operating Humidity




10%-90%, non-condensing



Model

Rated Power
Output Sockets
Product Size (WxHxDmm)
Product Weight (kgs)
Giftbox Size (LxWxH mm)
Carton Size (LxWxH mm)
Qty/Carton(pcs)
AT-501-500W
500W
1xNEMA + 1xUniversal

130x110x230

2.5
300x168x165
350x315x350
4
AT-501-1000W
1000W
3.6
AT-501-1500W
1500W
2xNEMA +2xUniversal

160x150x270

5.3
344x196x196
405x355x410
4
AT-501-2000W
2000W
6.5
AT-501-3000W
3000W
Terminal

215x210x310
10.5
352x258x235
530x362x255
2
AT-501-5000W
5000W

13.5
AT-501-8000W
8000W
Terminal

245x270x370
19.6
/
417x288x328
1
AT-501-10000W
10000W
24.5